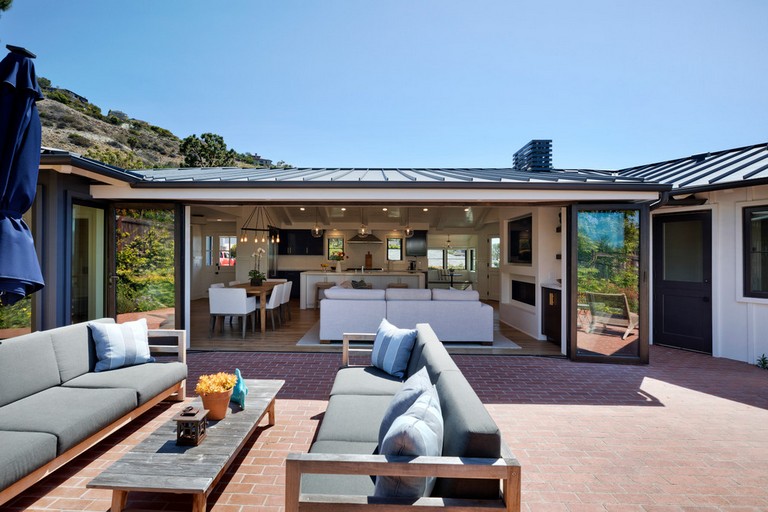 Outdoor courtyard becomes an important corner of your house if you are the type who loves to spend the spare time with family, relatives, or friends in outside without leaving your cozy house to have chit chats, enjoy food and drinks, and enjoy the nice weather. In this case, you will really need a wonderful outdoor courtyard design. Whether it gives an exotic touch, traditional look, or modern and luxurious touch, choose one that represents your taste best.
Placing rattan furniture or decorations is a smart way to bring exotic touch into your outdoor courtyard, for example using rattan hanging chair as the statement piece. Combine it with an exotic patterned rug and also a wooden table in the side of the chair. Put mason jars and fill it with water for your favorite tropical flower. You can also use reclaimed materials to blend your courtyard design with the environment. Use bricks for the flooring to present earth element to the courtyard besides its good durability.
For traditional look lovers, try something new by mixing and matching various traditional cultures to create a wonderful outdoor courtyard design. It is called ethno-chaotic approach, where you can have one dominant decoration theme for the courtyard but also add other cultures touch. Plant vines to create shades and turn your outdoor courtyard into an oasis to spend your spring and summer time.
One important thing to make your outdoor courtyard looks cozy is preparing comfortable seats or custom sofa and many fluffy cushions that covered with fabric that suits the theme of your wonderful outdoor courtyard design. You can add folding chairs or butterfly chairs besides the sofas that are so flexible to save the space if you got a small courtyard. If you love plants and want more green areas in your courtyard so much but you have limited space, try to make a vertical garden that can have dual duty as a living backdrop too.
image source : pinterest.com