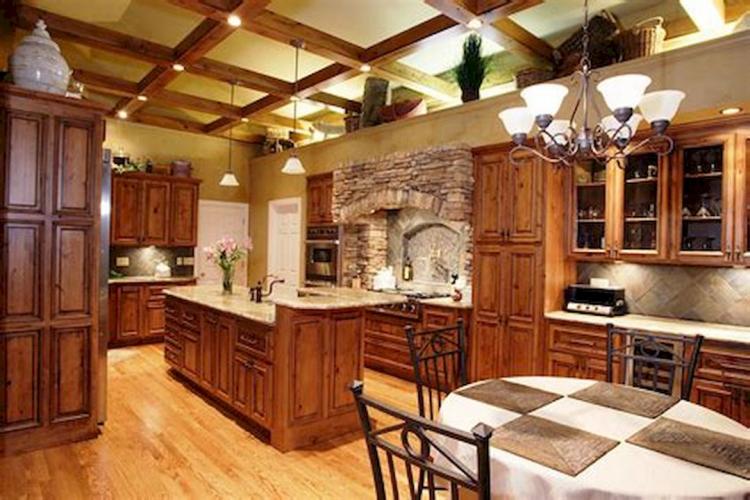 The reason why rustic kitchen style is still capable to hold its own popularity despite the surge of modern trend, is because it has unique charm, provides warm vibes, and give certain nostalgic feelings. There are endless options when it comes to planning the look of your room, including the kitchen, but somehow a lot of people prefer this cozy and homey design more.
There are various ways you can possibly do to achieve the farmhouse style looks in your kitchen, from using rugged stone floors, wooden painted cabinet, farm tables, or certain vintage accessories which can make or break the room. Those are only several examples on choosing the furniture to bring inviting and casual energy to any kitchen. They also match well with both of spacious or tiny rooms, in urban or countryside areas.
Through the different ideas on how to incorporate rustic kitchen style below, you'd be able to add the touch, or even give a whole country concept to the space. As the style is very versatile, you can combine the traditional elegant design with retro and colorful looks, or clean and minimalist appearance. You can control how countrified you want your kitchen to be, as you do not have to put every single rustic element in each part and corner of the room.
Make yourself, your family members, or any guest in your house to escape the fast-paced life in the city and enjoy themselves in the welcoming space of yours. Find dozens of images and descriptions about rustic kitchen style with distinctive features such as natural wood, old stones, or wood beams materials. Moreover, you can learn on how to create this aesthetic and combine it with different styles in smart manners to make the room far from outdated, feels more personalized but still looks cohesive enough.
image source : pinterest.com